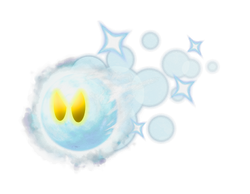 BlizzFlake is a snowflake-like boss in New Super Mario Bros. Omega. It appears to be the end boss of World 4, named Christmas Paradise.
Appearance and Strategy
BlizzFlake is a small snowflake with the power to call up snowstorms, being the most powerful miniature and the smallest boss, together with InferFlake.
Due to being small, three simple touches is enough to defeat it. This seems rather harder than it sounds, since it is able to call blizzards, where he is almost unable to find, with the exception of its darker body and it's yellow eyes. Sometimes, snow white Goombas are found in the blizzard, making him even harder to recognize.
Game appearances
BlizzFlake has currently only appeared in New Super Mario Bros. Omega and Super Mario World Ultimate.
Ad blocker interference detected!
Wikia is a free-to-use site that makes money from advertising. We have a modified experience for viewers using ad blockers

Wikia is not accessible if you've made further modifications. Remove the custom ad blocker rule(s) and the page will load as expected.