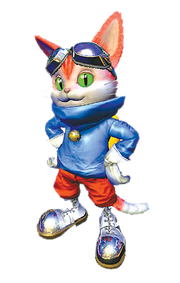 Blinx is the main protagonist of the Blinx series. He appears in
Xbox All-Stars Battle Royale
as a playable character. His in-game rival is
Chell
.
Biography
THE TIME SWEEPER
Blinx is one of many Time Sweeperss that reside in the Time Factory. His job is to clear out of the time monsters created from inequities in the fabric of time. When the Tom Tom Gang starts stealing Time Crystals from various worlds, Blinx goes to world B1Q64 to restore the normal time flow, and save it's inhabitants, also the princess who he falls in love.
THE LEGACY OF BLINX
Blinx the Time Sweeper
Blinx 2: Masters of Time and Space
Arcade
Opening
TBA...
Rivalry
Name: Chell
Reason: Unknown
Connection: Unknown
Ending
TBA...
Gameplay
Blinx will be a fast character with special attacks utilizing his Time Sweeper, a vacuum like device.
Movelist
A Moves:
X Moves:
B Moves:
Supers
Level 1 Super - Fast Forward: Blinx speeds up time for him, rushing forward so fast to kill opponents.
Level 2 Super - Pause: Blinx pauses time, allowing him to kill opponents for a temporary amount of time.
Level 3 Super - Tom Tom Gang Attack!: The Tom Tom bandits appears, launching an assault similar to Fat Princess's.
Quotes and Taunts
Taunts
Time Crystals: Blinx juggles three Time Crystals and then puts them back on his pocket.
Quotes
Character Selection:
Item Pick-Up:
Pre-Match:
Successful KO:
Respawn:
Animations
Entrance
Time Sweep Begins!: Blinx jumps out of a Time Portal.
Win
Time Sweep Complete!: Blinx jumps on a Time Portal and disappears.
Lose
If using Time Sweep Complete!: Blinx facepalms, as his Time Sweeper falls to the ground.
Results Screen
Win: Blinx looks at the camera while holding his Time Sweeper, occasionally looking behind his back.
Lose: Looks down with his hand by his eyes.
Costumes
Original Time Sweeper
Blinx's appearance from the first Blinx game. Default
Blue jacket and goggles, red pants, white boots and gloves
Ad blocker interference detected!
Wikia is a free-to-use site that makes money from advertising. We have a modified experience for viewers using ad blockers

Wikia is not accessible if you've made further modifications. Remove the custom ad blocker rule(s) and the page will load as expected.