Blastoise exists, and it can be found in real encyclopedias. You may read more about it here:
Blastoise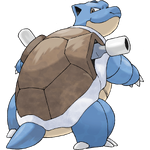 No image description available (yet)
Type(s)
Water
Blastoise are giant turtle-like Water Pokémon. They is #009 on the PokeDex and are the evolved form of Wartortle. A Blastoise has two pumps coming out of its shell to shoot out high-power blasts of water. Proven, these blasts can punch through very thick steel. Its stands as tall as 5' 3" and weighs 188.5 pounds. It is a Generation I Starter Pokémon.
Appearance
Edit
Blastoise is an anthropodic turtle with a very stout appearance. It's skin is mainly blue and it's shell is mostly dark brown and thick.
Base Stats
HP

79
Attack

83
Defense

100
Sp. Attack

85
Sp. Defense

105
Speed

78
Recruitment Minigame: Rain Dance