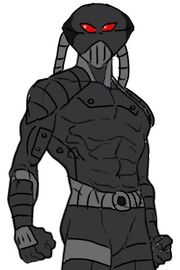 Black Manta is a fictional DC supervillain and is the arch-nemesis of Aquaman.
Appearances
Justice: Apocalypse
Black Manta decided that it would be best to form a temporary truce with the King of Atlantis known as Aquaman. He would help lead his forces to fight against Darkseid. But like Black Adam, once this fight is over, he resort to the second phase of his plan.
Gallery
Ad blocker interference detected!
Wikia is a free-to-use site that makes money from advertising. We have a modified experience for viewers using ad blockers

Wikia is not accessible if you've made further modifications. Remove the custom ad blocker rule(s) and the page will load as expected.