Ad blocker interference detected!
Wikia is a free-to-use site that makes money from advertising. We have a modified experience for viewers using ad blockers

Wikia is not accessible if you've made further modifications. Remove the custom ad blocker rule(s) and the page will load as expected.
The
Black Bull
is the machine driven by the overlord of evil, Black Shadow. This machine fully constructed by the many minions belonging to the BS Group an evil underground organization created and run by Black Shadow himself. In the anime, F-Zero Falcon Legend, the exact origins of the Black Bull are unknown, but it is assumed that it was acquired by the master of darkness through his organization known as Dark Million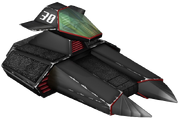 and supposedly operates as a sentient being all on it's own, returning to Black Shadow from wherever he is at the simple beckoning of the machine's name. Given it's stats, it's apparent that this machine was specifically designed for mercilessly preying on other vulnerable vehicles, wielding an amazing amount of grip and protective body armor and bulk. This makes controlling the vehicle in a flawless matter and taking out an opponent on the track with a well-timed side attack as simple as pressing the accelerator. With this said, the Black Bull is literally the most dangerous machine on the track!
Statistics
Appearances
The Black Bull makes several appearances in the game. It appears in Black Shadow's battle entrance, and is also used for his Final Smash. In addition, the machine can be seen racing on Mute City.
The Black Bull returns once again in F-Zero U, and is one of the few machines that hasn't been tweaked or improved on.