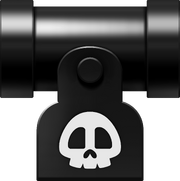 A Bill Blaster is an immobile cannon that shoots Bullet Bills. Except in the Paper Mario series, Bill Blasters are mostly invincible, and act like a platform. This cannon, can't shoot Bullet Bills if the player is next to him or on him.
There's a Suit Blaster that is able to shoot Bullet Suits when Ground Pounded. The Torpedo Ted equivalent of a Bill Blaster is a Ted Box.
The Banzai Bills immobile cannon is a Banzai Bill Blaster.
Gallery