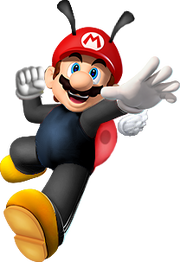 Biddybud Mario is a Power-Up that Mario can use to become similar to a Biddybud in appearance. The suit imbues Mario with the power to fly for about five seconds, much like a Para-Biddybud. In Super Mario: Elemental Journey, this is expanded upon. Mario loses the ability to stomp and will only stand on enemies instead of crushing them; including mere Goombas. Mario can have a line of Biddybuds follow him like a certain captain and throw them as weapons or use them as platforms (due to his lack of stomping ability).
Game Appearance
It appears as a Power-Up that Mario can equip.
The Biddybud Suit returns in Super Mario: Elemental Journey and it's role is greatly expanded upon. It retains it's ability to fly but also removes the player's ability to stomp, meaning that they will only stand or bounce off most enemies (including Goombas). Biddybuds will follow Mario and he can use them as weapons or as a platform.
Ad blocker interference detected!
Wikia is a free-to-use site that makes money from advertising. We have a modified experience for viewers using ad blockers

Wikia is not accessible if you've made further modifications. Remove the custom ad blocker rule(s) and the page will load as expected.