Ad blocker interference detected!
Wikia is a free-to-use site that makes money from advertising. We have a modified experience for viewers using ad blockers

Wikia is not accessible if you've made further modifications. Remove the custom ad blocker rule(s) and the page will load as expected.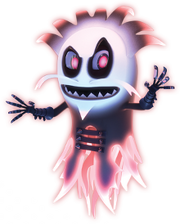 Lord Betrayus Sneakerus Spheros is a major antagonist of the Pac-Man series. He is the ruler of the Underworld, and thus the king of the Ghosts and various other monsters. While not the main antagonist of the entire Pac-Man franchise, he is the main antagonist of the Pac-Man and the Ghostly Adventures television series and video games.
History
Ghost Wars
He was responisble for the Pac-wars that overpowered the Pac-King and took over Pac-Land and people rebeled him and the ancients Imprisoned him in the Ghost Land with his Goul-bots and Ghost Boss in the Netherworld.
Gallery