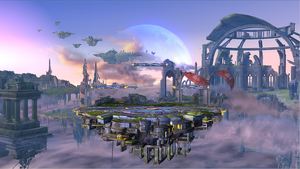 Battlefield (戦場, Battlefield) is a stage in Super Smash Bros. Universe. Like all other incarnations of the Battlefield, it is a simple stage that features several platforms. In a similarity to SSB4, the stage also has both a Ω form, and a much larger form that is preferred for 8-player battles named Big Battlefield.
Overview
Like the Battlefield stage in Super Smash Bros., in Super Smash Bros. Melee and in Super Smash Bros. Brawl, it consists of a central, solid platform, with ledges at the side that can be grabbed. Above this platform, there are three more soft platforms, arranged in a triangular layout. In addition, the background shifts between the time of day, to show a day, evening, night, and dawn appearance, this is a reference to the SSBB and SSB4 incarnations of the stage. Unlike those incarnations, the Battlefield now takes place over a bustling Futuristic Metroplis that seems quite similar to places from various Nintendo franchises such as Lumoise City, and Castelia City from Pokemon, Mute City from F-Zero, and Corneria from Star Fox. Occasionally flying cars and ships will be seen flying in the background. When music is turned off, the player can hear sounds such as honking, dogs barking, and birds chirping. Although the weather is usually sunny, an occasional thunder storm will occur.
Soundtrack
Characters Fought
Ad blocker interference detected!
Wikia is a free-to-use site that makes money from advertising. We have a modified experience for viewers using ad blockers

Wikia is not accessible if you've made further modifications. Remove the custom ad blocker rule(s) and the page will load as expected.