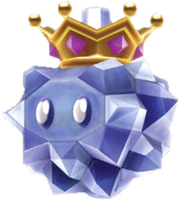 Baron Brrr is one of the many bosses that appears in the Super Mario series. it is shown to be a giant Brr bit, wearing a crown to prove its kingship. Its possible relative is Baron Brrrn. To attack, it forms ice stones in its crown and shoots them at Mario.
Appearances
Baron Brrr made its first appearance in Super Mario Universe. It also made an appearance with Baron Brrrn in Super Mario Adventures II. In both games, you have to defeat B.B. using a Fire Flower. However, it can easily dodge the fireballs. It is most vulnerable when it is shooting ice balls at Mario. Sixth Icy Boss
Baron Brrr made his first playable appearance in Mario Kart Double Dash 93 even though he has no arms. His default partner is Giga Lakitu.
Ad blocker interference detected!
Wikia is a free-to-use site that makes money from advertising. We have a modified experience for viewers using ad blockers

Wikia is not accessible if you've made further modifications. Remove the custom ad blocker rule(s) and the page will load as expected.