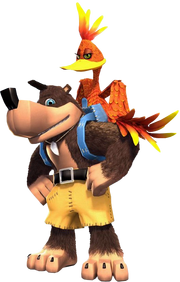 Banjo and Kazooie are the two main protagonists of the
Banjo-Kazooie
series. They appear alongside each other in
Xbox All-Stars Battle Royale
. They're in-game rival is
Conker
.
Biography
THE UNCANNY BEAR AND BIRD DUO
TBA...
THE LEGACY OF BANJO AND KAZOOIE
Banjo-Kazooie
Banjo-Tooie
Banjo-Kazooie: Nuts and Bolts
Arcade
Opening
TBA...
Rivalry
Name: Conker
Reason: Unknown
Connection: Both Banjo and Kazooie and Conker were created by RARE, and debuted in Diddy Kong Racing on the Nintendo 64 before eventually branching out into they're own platforming games, which have been very popular. Banjo and Conker were also seen alongside each other in a commercial once.
Ending
TBA...
Gameplay
Banjo and Kazooie are very balanced characters, so this may be the best option for beginners. While midair, Kazooie and pop out of Banjo's backpack and slow his fall.
Movelist
A Moves:
X Moves:
B Moves:
Y Moves:

Kazooie's Flight - While midair, hold Y and Kazooie will slow you're fall.
Supers
Level 1 Super
Level 2 Super
Level 3 Super
Quotes and Taunts
Taunts
Stay Focused!: Kazooie pops out of the backpack and pecks at Banjo.
Quotes
Character Selection:

"Time for another adventure!" (Banjo)

Item Pick-Up:
Pre-Match:
Successful KO:

"Goggles could fight better than these guys." (Kazooie)

Respawn:
Animations
Entrance
Breegull Landing: Banjo and Kazooie fly in and ready to fight.
Win
Jiggy Get!: Banjo holds up a Jiggy and smiles proudly.
Lose
If using Jiggy Get!: Banjo is seen sitting down sadly while Kazooie shakes her head.
Results Screen
Costumes
Backpack Bear
Banjo and Kazooie's basic appearance. Default.
Brown fur, yellow pants, blue backpack, red feathers
Ad blocker interference detected!
Wikia is a free-to-use site that makes money from advertising. We have a modified experience for viewers using ad blockers

Wikia is not accessible if you've made further modifications. Remove the custom ad blocker rule(s) and the page will load as expected.