Banjo
Full Name
Banjo Bear
バンジョー
Current Age
20
Date of Birth
June 24
Gender
Male
Species
Honey Bear
Location
Spiral Mountain
Align
Good
Current Status
Alive
Class
Hero
Affiliation(s)
Isle O' Hags
Family and Relations
Tooty (sister)
Kazooie (partner)
Gruntilda (rival)
Bottles (friend)
Mumbo Jumbo (friend)
Humba Wumba (friend)
Klungo (friend)
Capitan Blubber (friend)
Voice Actor(s)
Chris Sutherland
First Appearance
Diddy Kong Racing (1997)
Latest Appearance
Rare Replay (2015)
Banjo
is a titular character in the
Banjo Kazooie
series of games. However,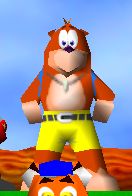 Banjo's first appearance was
Diddy Kong Racing
for the
Nintendo 64
. He is a honey bear with a deep voice who lives in
Spiral Mountain
with his best friend
Kazooie
. He wears yellow shorts, a blue backpack, and a shark tooth necklace. In his first adventure, his little sister,
Tooty
, was captured by the evil witch,
Gruntilda
. During his efforts, he made multiple friends throughout the worlds he visited.
Fanon Appearances
Boss Battle Banjo
Banjo is a boss in Yoshi's Story 2. He attacks all the Yoshi's in the level, What a Vine Village.... He attacks with Kazooie, ordered by Kamek. He attacks by hitting the Yoshi's with his Backpack, slamming at the ground with it. He transforms into various things in the battle. He is actually brain washed, along with Kazooie. He has to be defeated by ground pounding on Kazooie, making her beak hit Banjo.
Cricket Player
Banjo appears on the Rocking Racers team in Donkey Kong Test Cricket. This is the first time he has reappeared with his Diddy Kong Racing co-stars since the original Diddy Kong Racing. His sidekick Kazooie does not return with him.
Banjo-3Die
Banjo obviously appears as the star of the next installment of the Banjo-Kazooie series, Banjo-3Die. You play as him and Kazooie, trying to find Grunty, whom has stolen the body of Humba Wumba. She has also kidnapped Mumbo, and meets a new character: Juddy Buddy.
Transformations
With the help of Mumbo Jumbo, a shaman, Banjo can transform into various things such as:
Termite
Alligator
Walrus
Pumpkin
Bee
Stony
Plunger
Money van
Submarine
Washing machine
Snowball
Mouse
Octopus
Candle
Tank
Gallery
Ad blocker interference detected!
Wikia is a free-to-use site that makes money from advertising. We have a modified experience for viewers using ad blockers

Wikia is not accessible if you've made further modifications. Remove the custom ad blocker rule(s) and the page will load as expected.