Bandanna Dee did not originate from fanon, and more information can be found on their respective wiki(s). You may read more about it on the following wiki(s):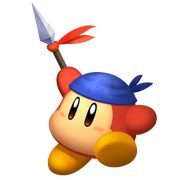 Bandanna Dee (also known as Bandana Dee or Bandana Waddle Dee) is an unnamed Waddle Dee wearing a blue bandanna who serves as King Dedede's assistant in some Kirby games.
Appearances
In the Pathverse, Bandanna Dee is one of Dedede's major advisers, who was hired alongside Dedede since the beginning of the Devotee Castle completion. In Devotee city, Bandanna Dee serves as the main person managing the Devotee City economics and trade routes. He is usually seen alongside Dedede and is also Dedede's personal bodyguard. During the Second Age on the 22nd anniversary of Devotee Castle's completion, Bandanna Dee is kidnapped by the Blind Man to help him control the economics for the Blind Man's nation. Because of this, Dedede becomes paranoid and does a terrible job at being king and eventually every civilian is near poverty. This lead to the raids on Devotee Castle and the overthrowing of Dedede.
Main article: Bandana Dee (Calamity)
Bandana Waddle Dee (dubbed Bandana Dee in this game) makes his debut in Super Smash Bros. as a playable character in Super Smash Bros. Calamity, using a variety of moves based on the Beam, Parasol and Spear copy abilities from the Kirby games in his arsenal. This Bandana Dee has a different design, with the scarf on its spear being blue instead of red, to match his bandana color.
Bandana Waddle Dee appears in Boss Battles as a playable character, who will appear in a future, upcoming patch. He was added by OwtheEdgehog (t∣b∣c). Bandana Waddle Dee uses his spear, parasol and beam rod as a part of his moveset. He is a tiny character with not much health, but his moveset is unorthodox, mainly because he can change his spear into a parasol to deflect attacks and a beam rod to fire a projectile, thus making him a decent character.
Bandana Waddle Dee (once again, dubbed Bandana Dee in this game) makes another Kirby appearance in Kirby Twinkle Terror as a supporting, non-playable character (although he was planned to be in the game, but was removed, with Lance Doo taking his place). He reprises his role as a background character like in Kirby: Triple Deluxe, throwing an item that the players can store once they reach a boss, which can range from a food variant to a Maximum Tomato. Afterwards, he just waves at you, endlessly. The scarf on his spear is blue just like how it was in Boss Battles and Super Smash Bros. Calamity.
Gallery
Navigation Templates