Banana
Comment

1
18,083pages on
this wiki
For the Character called Banana Jr. see here.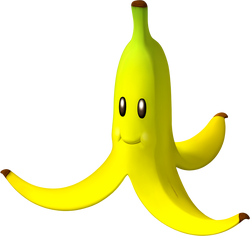 Bananas are a type of fruit that Donkey Kong and Yoshi love to eat. Banana Peels are also a common item in the Mario Kart series. They are a popular food in Isle Delfino. There is an alien banana called Xananab. In the game Mario Kart: Double Dash!!, Donkey Kong and Diddy Kong can use a giant banana as a special attack.
Bananas will appear as normal items (like always) in Mario Kart: Unite.
Bananas will appear in the game Mario & Nintendo All-Stars Racing 2. If the Banana is thrown up, the player will throw a Banana far away from him/her in the front. If thrown back, the player will place a Banana behind him/her.
Bananas appear in this game, being the most common item. If you slip on one you lose 5 coins.