Baby Yoshi
Logo Coming Soon!
Developer(s)
Hammer Egg House, Inc.
Publisher(s)
Platform(s)
Nintendo 3DS
Genre(s)
Action, 2.5D Platformer
Main Series
Mario
Sub-series
Hammer Egg House
Predecessor
Hammer Egg House (Prequel, but released after)
Media Included
Nintendo 3DS Cartridge
Digital Download
Input
Nintendo 3DS Circle Pad
Release Date(s)
TBA
Mode(s)
TBA
Rating(s)
ESRB: - Everyone
PEGI: - Ages 3 and Up
CERO: - All
OFLC: - General Audiences
Baby Yoshi is a Platformer game created by MarioGameChampion (t∣b∣c). It is the story behind Hammer Egg House. Little is currently known.
Trivia
It is MGC's only game that he posted on Fantendo that he did not have many ideas for when it was first created (not even in his mind).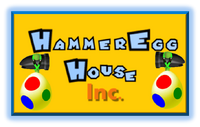 MarioGameChampion (t∣b∣c)
Active: See here.
Cancelled: Yoshi Quest

Lava Path•Hammer Egg House•Superior Mario World•Koopa Kaos

Handheld
Nintendo 4-Screen Tablet•NintenTouch
Console
Currently None

MarioGameChampion (t∣b∣c)•SuperMarioBro64 (t∣b∣c)•SuperDuperMarioKirby (t∣b∣c)•Brockdilley (t∣b∣c)•LightningLuigi93 (t∣b∣c)•Locky'12 (t∣b∣c)•Sr.Wario (t∣b∣c)•SuperToadMan56 (t∣b∣c)•ϞPlazzapϟ (t∣b∣c)

The Fan Corporation•Fantendo•Blargg Fan Club