Baby Donkey Kong
Comments

6
18,124pages on
this wiki
Baby Donkey Kong is not to be confused by the infant version of Donkey Kong, which was named Donkey Kong Jr..
Baby Donkey Kong (or Baby DK) is Donkey Kong in baby form.
Game Appearances
Edit
Baby DK appears as a playable character in Mario Kart Wii: Turbo Edition.
Baby Donkey Kong appears as a playable character in the Wii platformer Super Mario Bros: Diaper Duty. He is originally held captive with Baby Funky by Prince K. Rool however once he is freed he joins the team. He can throw foes and use a super punch on them. He is the second strongest and he has average speed.
Baby Donkey Kong is a player on the Baby Brigade team on the multiplayer Wii sports game Mario Rugby League. He is a strong character with average speed but poor skill. His special skill is to throw a banana for an extended tackle.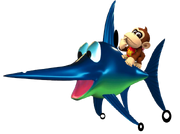 Baby DK also appears in the Super Baby Partners Squad game. He will join Baby Mario & Baby Luigi's team after he is rescued from Baby Petey Piranha.
He's In Donkey Kong Kart D.I.Y.
Baby Donkey Kong appears as an unlockable character in Mario Kart 8 Wii U. His special move is Giant Banana.
Stats:
Speed: 3
Acceleration: 3
Drift: 3.5
Handling: 3
Off-Road: 2.5
Baby Donkey Kong appears as an unlockable character in Mario Kart Wii 2.0