Baby Diddy Kong
Comments

2
18,124pages on
this wiki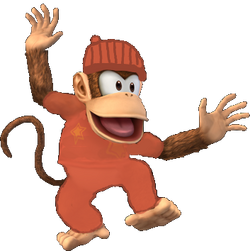 Baby Diddy Kong is the baby form of Diddy Kong although he is stated as being several years younger than Donkey Kong and the gang he appears alongside them in two upcoming games. His brothers are Baby Swankey Kong, Baby Donkey Kong, and Baby Funky Kong. His girlfriend Baby Dixie Kong. He also plays with Kiddy Kong who is at that time an infant. He likes to use his one peanut popgun and his rocket barrel. He is also a Moon child. Also he appears a lot Yoshi's Island games.
Game Appearances
Edit
Super Baby Mario Kart
Edit
Baby Diddy Kong made his first appearance in the 2009 Wii racing game Super Baby Mario Kart. He is currently not set to appear in any more Diaper Duty Series games.
Mario Baseball Legends Edit
Baby Diddy Kong will appear in Mario Baseball Legends an unlockable character.
Baby Diddy Kong (The baby kong with strength to win)

Stamina - 10/10
Batting - 10/10
Pitching - 10/10
Running - 10/10