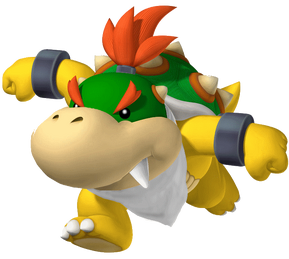 Baby Bowser, as the name implies, is a younger version of Bowser. He is often confused in design and name with Bowser Jr. He has appeared in various Yoshi games, usually as the end boss. He is also set to appear in Super Smash Bros. Revolution as an Assist Trophy, after appearing as a regular trophy in Super Smash Bros. Melee.
Game Appearances
Edit
Yoshi's Island 2
Edit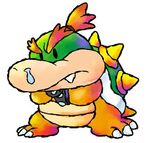 Baby Bowser will be the main villain of Yoshi's Island 2. He will hold Baby Peach captive.
Baby Bowser appears as a playable character in the Wii platformer Super Mario Bros: Diaper Duty. He is only usable in one battle against his dad King Koopa where he can spit fireballs and claw. He is show repeadtly through the game being yelled at by his dad.
Baby Bowser is a player on the Baby Brigade team on the multiplayer Wii sports game Mario Rugby League. He is a strong character with average skill but poor speed. His special skill is to shoot fireballs from his mouth which serves as an extended tackle.
Physical appearance
Edit
He looks exactly like Bowser's eighth youngest child Bowser Jr. and because of this, he is constantly mistaken for him.
Baby Bowser is the boss of World 2. He charges at you and breathes small fireballs.