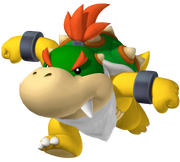 Baby Bowser, as the name implies, is a younger version of Bowser. He is often confused in design and name with Bowser Jr. He has appeared in various Yoshi games, usually as the end boss. He is also set to appear in Super Smash Bros. Revolution as an Assist Trophy, after appearing as a regular trophy in Super Smash Bros. Melee.
Game Appearances
Yoshi's Island 2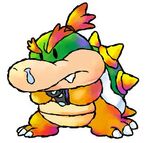 Baby Bowser will be the main villain of Yoshi's Island 2. He will hold Baby Peach captive.
Baby Bowser appears as a playable character in the Wii platformer Super Mario Bros: Diaper Duty. He is only usable in one battle against his dad King Koopa where he can spit fireballs and claw. He is show repeadtly through the game being yelled at by his dad.
Baby Bowser is a player on the Baby Brigade team on the multiplayer Wii sports game Mario Rugby League. He is a strong character with average skill but poor speed. His special skill is to shoot fireballs from his mouth which serves as an extended tackle.
Behind the Wheel
Baby Bowser appears as unlockable playable character in the racing game Bowser's Castle Racing.
Stats
Weight: 17%
Driving Skill: 50%
Item Power: 30%
Speed: 65%
Game's Description
He's the child version of Bowser, he is the son of Igser J However, this little devil is ready to win. Do not dare to exchange it for Bowser Jr.
In Yoshi island rise from the beginning he will be the secondary main antogist. He will help his father in his battle agianst the Yoshi's and will be the pre-final boss.
He first defeated the dark yoshi when the koopas fell. He took the dark Yoshi too a prison beneath the castle where he quest him why the yoshi's hates the koopa's. Usura gave him a hard awnser and said that the koopas where tyrantlike monsters and responsible for the chaos in Yoshi island.
In the koopa castle he will attek Yoshi a lot of times throwing bombs and other stuff to him. At the Top of the koopa castle the prince summoned a giant koopa, hoobill koopa. It didn't too long and the hookbill koopa was defeated.
In the last moment he stand before the room of his father calling Yoshi weaklings. He then jumped away and waited for him in the final room the battle. Yoshi's last battle with Baby Bowser was very epic. When Yoshi beated him his dad appeared. He called him a weakling and a failure. Morton then slayed yoshi in one wipe but before he could kill him Usura broke free and stand before Yoshi. The final battle between Usura and Mortonm, Morton was immense more powerfull then Yoshi imagineted but Usura won and Morton fell left behind. Baby Bowser tried to take his dad away but he was too heavy. 
Baby Bowser left the castle before it explodes, he was responsible for the rebuilding.
Physical appearance
He looks almost like Bowser's oldest child Bowser Jr. and because of this, he is constantly mistaken for him.
Baby Bowser is the boss of World 2. He charges at you and breathes small fireballs.
Gallery
See also