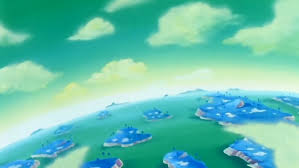 Planet Namek is a stage created by Monstermanchego (t∣b∣c) for B.O.K.O. With its wide-open terrain and massive scale, it's ideal for fighting with the game's more mobile characters.
Description
Namek is among the largest stages in the game, both horizontally and vertically. This immediately poses as an issue for less mobile characters, so it's rarely used by those seeking a more standard experience, and only approached with the most mobile of characters. Occasionally, the forces of Frieza's empire will join the battle, including the quirky members of the Ginyu Force and even Lord Frieza himself. If players are lucky, they may even get to relive the battle between Super Saiyan Goku and Frieza on the dying planet!
Music
Ad blocker interference detected!
Wikia is a free-to-use site that makes money from advertising. We have a modified experience for viewers using ad blockers

Wikia is not accessible if you've made further modifications. Remove the custom ad blocker rule(s) and the page will load as expected.