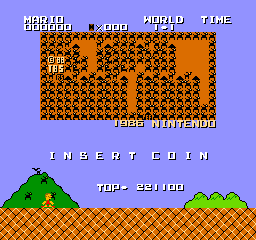 Bootleg Mushroom Kingdom is a stage created by .vectorDestiny (t∣b∣c) for B.O.K.O, originating from the odd and bizarre wonderland of video game bootlegs. The stage takes form of Super Mario Bros.'s levels 1-1 and 1-2 with the level featuring garbled text and Chinese decoration.
Description
The stage is an auto scroller like the Mushroomy Kingdom stage in Super Smash Bros. Brawl and once one loop ends the player moves to the next loop, which is stage 1-2. The level features decoration from Chinese culture and also it is heavily prone to glitching out, which can even affect the sound effects, replacing them with either really bizarre sounds or really glitched out versions of the sounds. The level can glitch itself and the next loop can take to World -1 instead of 1-2, and it can even glitch out into a glitched version of any other stage. It's a mess to say the least. Sometimes Grand Dad or Fortran might appear. Touching Grand Dad will give the player a club and touching Fortran will turn the player into gold.
Music
Ad blocker interference detected!
Wikia is a free-to-use site that makes money from advertising. We have a modified experience for viewers using ad blockers

Wikia is not accessible if you've made further modifications. Remove the custom ad blocker rule(s) and the page will load as expected.