B.O.B. (series)
Comment

1
18,126pages on
this wiki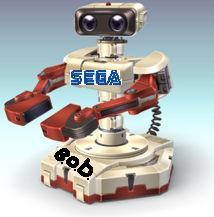 When Nintendo was making the R.O.B., SEGA was making B.O.B. The Bionic Operating Buddy. But, R.O.B. angry! Now he want's to destroy B.O.B.
Platform:Wii3D/DS
Games:
B.O.B. Adventure
R.O.B. tries to DESTROY B.O.B.
Worlds: Bosses:
Sega Lab- Bad Game 01 (to defeat him, use the B.O.B. Bullet, an attack, on his start button.)
Cyber space- Termanater Emulator (to defeat him spin to shoot back his fire balls 6 times.)
Lost Data Zone- Dolfn, pronounced Dolphin,( to defeat him, catch fish and t
hrough them in his disk drive 3 times.)
R.O.B.'s Nintendo base -R.O.B (to defeat, atach him randomly.)

Wait for next game. it's in production...