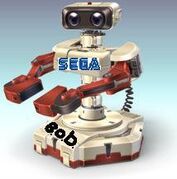 B.O.B.
is an item created by
SEGA
. But
Nintendo
's R.O.B. envied B.O.B. and wants to distroy him, it, B.O.B.
Games
He is made by Incredi-GAMER912 for Incredi-GAMIN' inc. He has a series about himself and is going to appear in Fanten-SPORTZ.
Personality
He, it, B.O.B. is farly nice. Unlike his enemy R.O.B. He likes to make jokes, but I never said he was good at it...
Abilities
B.O.B. can shoot bombs. The attach is called the B.O.B. Bullet.
he can spin his arms 360 degries.
he has......... ROCKETET BOOSTERS!