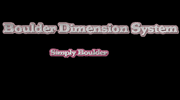 The B.D.S
(otherwise known as
The
Boulder Dimension System
) is
BGI's
newest upcoming home console. It will was released December 21, 2011. The BDS will be able to display 2-D, 3-D and even Virtual imagery. You can easily switch from 2-D to 3-D by simply going to BDS Setup and select either "All 2-D", "All 3-D" or "Virtual Mode" where you can actually feel the images. Once it is either on 2D, 3D or Virtual mode, not only will you can play Videogames in this setting, you may also, screen chat, surf the web and/or watch your favorite movie/television show in this setting as well. Of course, The
Boulder System
games can be played as well on this system and can be played in 3-D and even virtually.
What it comes with
The Console
A Virtual Screen that allows you to actually feel images displayed in Virtual Mode. (Just place in front of actual screen and make sure it's on "Virtual Mode")
4 controllers.
A manual
One Sensor Bar
one external main power adapter
Two AA batteries
One composite AV cable with RCA connectors
Component video and other types of cables are available separately), operation documentation, and, in all regions, a copy of the game Boulder Sports (along with protective gear).
Confirmed Games
Gallery
Trivia
Originally, in order to get virtual images one would need to use the Boulder Virtual Sunglasses and headband that would come exclusively with the system itself. But the idea was later scrapped when Senseg offered help to make the B.D.S virtual without help of glasses and adding the ability to actually touch the images that were displayed on screen.
Boulder System games could not be played in Virtual mode, but thanks to Senseg, they fixed that too.
Ad blocker interference detected!
Wikia is a free-to-use site that makes money from advertising. We have a modified experience for viewers using ad blockers

Wikia is not accessible if you've made further modifications. Remove the custom ad blocker rule(s) and the page will load as expected.