Ashley & Red
Current Age
unknown
Date of Birth
unknown
Gender
female
Current Status
Witch
Ashley
is a character in the
Wario series
and a so-called "friend" of
Wario
. Ashley is a witch and has a devil assistant named
Red
. Ashley also owns
her own mansion
. Ashley is a lonely girl who's parents abandoned her. All she ever wants is for her parents to love and care about her. The only company she ever has is her demon, Red. Red usually helps Ashley gather potions for spells and magical experimenting.
Appearances
Ashley will appear in
Super Mario Revolution
, and this will mark the first time a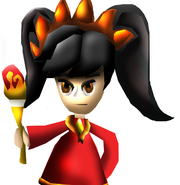 WarioWare character other than Wario will appear in a Mario game.
her mansion
will be a world in the game. Ashley is not the boss of the world, but rather,
Wario
is. She will appear randomly and cast spells at you.
Ashley is a player on the Wario Muscles team on the multiplayer Wii sports game Mario Rugby League. She is a skillful character with average strength and speed. Her special skill is to shoot a magical spell as an extended tackle.
Ashley appears in WarioWare: 3 Dimensions and appears her games in the theme: "3D-Working".
Microgame that appears
Gallery