History

Arcadium Videogame Company is an Fanon publisher founded in 2009 by Olavo Piñeiro. The "NEW ERA" started in 2010, when projects will be out of paper. It started with a totally inedit new logo, a classic joystick. The president Olavo, in an interview for Arcadium TV at the publisher base, in Rio de Janeiro (Brazil) said: - We started with the wrong leg, the publisher don't produce any game last year. Now, we will start the project 'Games for the family', games for all ages and types. The first games tha will be released are related to sports and have no names confirmed yet.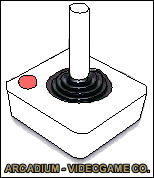 Games Published
NO GAMES PUBLISHED YET
Games in development
| Game Name | Places that will be published | Logo |
| --- | --- | --- |
| T.C. (The Championship) Libertadores 09 | South America and Europe | |
| N Babyes: School Activities | All World | N/A |
Ad blocker interference detected!
Wikia is a free-to-use site that makes money from advertising. We have a modified experience for viewers using ad blockers

Wikia is not accessible if you've made further modifications. Remove the custom ad blocker rule(s) and the page will load as expected.