Ad blocker interference detected!
Wikia is a free-to-use site that makes money from advertising. We have a modified experience for viewers using ad blockers

Wikia is not accessible if you've made further modifications. Remove the custom ad blocker rule(s) and the page will load as expected.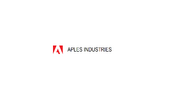 Aples Industries is an independent video game developer for the Wii Mii and Nintendo 4DS. They have made games such as Rusty's Real Deal Golf/Tennis, as well as Metroid Prime Pinball 2.

Games
Aples Industries has a long history of games, their most popular being Marvelous Melodies and Super Smash Bros. for Wii Mii/Nintendo 4DS.

The Legend of Zelda: The Golden Sword (2013)
Super Mario Skyline (2014)
Game & Waluigi (2014)
Rusty's Real Deal Golf (2014)
Marvelous Melodies (2014)
Super Smash Bros. for Wii Mii/Nintendo 4DS (2014)
Mario Golf: Island Tour (2014)
Mario Party World (2014)
Rusty's Real Deal Tennis (2015)
Metroid Prime Pinball 2 (2015)