The character Anna did not originate from fanon, and more information can be found on their respective wiki(s). You may read more about her on the following wiki(s):
This article refers to the Fire Emblem character. For other uses, see Anna (disambiguation).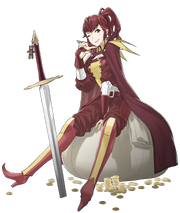 Anna is a recurring character in the Fire Emblem series; she features in every Fire Emblem game except for the second instalment in the Fire Emblem series, Fire Emblem Gaiden. She appears as a red haired female and is rarely seen without her trademark pose (of her resting her pointer finger on her face) or her sly smile. She appears a lot when the character enters a secret shop.
Fanon Appearances
There are two different Annas in this game...
The first Anna serves as the only shopkeeper in the game.
The second Anna can be unlocked as a playable unit either with a DLC pack or with an Amiibo. Her default class is the Thief class, while her alternative class is the Archer class.
Gallery
Ad blocker interference detected!
Wikia is a free-to-use site that makes money from advertising. We have a modified experience for viewers using ad blockers

Wikia is not accessible if you've made further modifications. Remove the custom ad blocker rule(s) and the page will load as expected.