In this game you become king of your very own country, in which you can build towns.
Characters
Kingdom: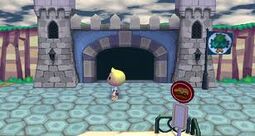 King = You
Servants = Rover The Cat & Buster The Dog 
Jester = Shrunk The Axolotl
Chef = Sharon The Dragon
Guards = Booker The Dog & Copper The Dog
Tailor = Sable The Hedgehog
Towns:
Mayors = Isabelle The Dog, Tortimer The Tortoise, Digby The Dog, Benny The Elephant and Bizzy The Anteater
Cafe Owners/Workers = Brewster The Pigeon, Brewy The Pigeon, Betty The Pigeon and Jim The Camel
Sailors = Gulliver The Seagul and Jarred The Warthog
Corner Shop Employee`s = Tommy The Tanooki, Timmy The Tanooki and Tracey The Tanooki
Fortune Teller`s = Wisp The Geenee and Katrina The Panther
Citys:
Post Office Employees = Pelly The Pellican, Pete The Pellican, Phyliss The Pellican And Bob The Bull
Charity Shop Volunteers = Cyrus The Llama, Reese The Llama, Congo The Monkey and Reagan The Llama
Clothes Shop Employees = Gracie The Giraffe, Mable The Hedgehog And Labelle The Hedgehog
Museum Volunteers = Blathers The Owl, Celeste The Owl, Bothers The Owl and Shelly The Unicorn
Phone Shop Employees = Ding The Koala And Dong The Koala
Club Entertainers = Frillard The Lizard, K.K. The Dog, K.K.JR The Dog, Blanka The Cat and Mix The Bear
Dream Suite Owner = Luna The Tapir
Hair Dressers = Harriet The Dog, Boris The Flamingo and Derrick The Whale.
Supermarket Employees = Tilly The Tadpole, Fred The Frog, Annabelle The Pig, Boom The Bear and G The Hippo
Esate Agents = Tom The Dog, Lyle The Otter, Adrian The Crocodile and Beep The Goldfish
Art Shop Owners = Redd The Fox and Bluue The Fox
Ad blocker interference detected!
Wikia is a free-to-use site that makes money from advertising. We have a modified experience for viewers using ad blockers

Wikia is not accessible if you've made further modifications. Remove the custom ad blocker rule(s) and the page will load as expected.