"Tee hee hee... I love Hypnosis! But I can not use it..."


— Amtoni, Paper Bleck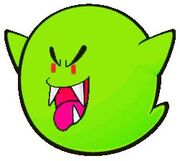 Amtoni is a green Atomic Boo with red eyes. It is a partner of Paper Bleck. His ability is to make you invicible.
Paper Bleck
Attacks
Lick
Hold the A Button down. If the bar is full, release it. Amtoni shall lick the enemy.
Invicible
Repeatly press the A button. Amtoni shall defend you.
Big Belly
Repeatly press the A button. Amtoni shall show his belly. If the enemy attacks Amtoni, They will get hurt.
Boo Buddy
Press repeatly the A button. Many Boos shall come. You can then attack more.
Quotes in Paper Bleck.
"My favorite food is the Pizza PepperBOOni"
Crisis
Amtoni is drafted into the Nintendo Civil War in Neverworld. He is one of the boos serving Daisy (who is little more than a front for King Boo).
Trivia
Amtoni is an Italian Atomic Boo (But has no Italian mustache).
Ad blocker interference detected!
Wikia is a free-to-use site that makes money from advertising. We have a modified experience for viewers using ad blockers

Wikia is not accessible if you've made further modifications. Remove the custom ad blocker rule(s) and the page will load as expected.