Alph

Alph as he appears in Super Smash Bros for 3DS/Wii U

Gender
Male
Location
Koppai
First Appearance
Pikmin 3 (2013)
Latest Appearance
Super Smash Bros Wii U (2014)
Alph
is a character from the
Pikmin
series, first appearing in
Pikmin 3
. He was one of the three explorers sent to PNF-404 to collect food for Koppai. Alph serves as the engineer for the S.S Drake, which he, Brittany and Charlie use to get to PNF-404. His grandfather, named Drake, designed the ship. Alph is a positive and very bright character. Outside of the Pikmin series, Alph also appeared as an alternate costume for
Olimar
 in Super Smash Bros. for 3DS/Wii U.
Physical Description
Alph is a small male Koppaite, approx. 1.6 cm tall. He wears a spacesuit sporting lots of blue including his light, gloves, shoes and backpack as well as his hair. He has an average sized nose and freckles under his eyes.
Appearances
Canon
Pikmin 3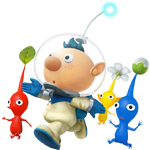 In Pikmin 3, Alph was one of the three explorers looking for food to bring back to his homeplanet of Koppai. He and his companions Brittany and Charlie ended up getting in a complication when their ship the S.S. Drake crashed and all three captains were seperated.
After reuniting, the captains learned they weren't alone on the planet and began searching for Olimar and Louie who also seemed to have been on the planet.
Super Smash Bros for 3DS/Wii U
Alph appeared as an alternate costume for Olimar.
Fanon
Super Smash Bros.: Going for Gold
Alph appears as a starting character in Super Smash Bros.: Going for Gold, and is a semi-clone of Olimar.
Gallery
Trivia
Alph was the only character playable in the E3 2012 Pikmin 3 demo.
According to Brittany's fruit notes, Alph is allergic to the Heroine's Tear (a mango), and the Scaly Custard (an avocado).
Alph has 12 older brothers, a big sister and a little brother.