Alien vs. Predator - Final Fight
Developer(s)
SimpleLine Studios

Capcom (North America)


Publisher(s)
Capcom
Platform(s)
SNES
Release Date(s)
January 29, 1991 (Europe)

 Febuary 1 , 1991 (Japanese)
 Febuary 11 , 1991 (North American)


Mode(s)
1-2 players
Age Rating(s)
Mature
Genre(s)
Fighting
Media Included
SNES Cartidge
Alien vs. Predator is a fighting game for SNES launched in 1991, it's made by SimpleLine Studios (Older Topline Studios).
Story
Two worlds colides , two monsters , so much fight - Manual
Playable Characters
Predator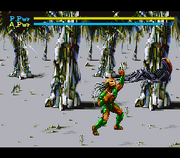 Predator X
Predator Omega (unlockable)
Alien
Alien Warrior
Alien Soldier (unlockable)
Moveset
Predator , Predator X and Predator Omega Attacks
Uppercut - A + Up
Tiger Slash - A + Left + A
Heart Slash - A + Right
XCut (Predator X exclusive attack) - A + Y + X
Omega Spin (Predator Omega exclusive attack) - Rotate the D-Pad in 360°
Alien , Alien Warrior and Alien Soldier
Head Throw - A + Left
Claw Fury - A + A + A
Demon Bite - A + Y + X
Warrior Whitin (Alien Warrior exclusive attack) - Rotate the D-Pad in 180°
Solider Finish (Alien Soldier exclusive attack) - L or R + A
Unlocking Criteria
Predator Omega - Defeat 500 Aliens
Alien Soldier - Defeat Predator Omega with Alien Warrior
Censorship
In Europe and Japanese version, the Alien and Predator blood is red, but in North American is green.
In Europe and Japanese version, the game is rated to Mature, in North American is 10+
Ad blocker interference detected!
Wikia is a free-to-use site that makes money from advertising. We have a modified experience for viewers using ad blockers

Wikia is not accessible if you've made further modifications. Remove the custom ad blocker rule(s) and the page will load as expected.