Alexa (Kalos) did not originate from fanon, and more information can be found on their respective wiki(s). However, this page currently provides no links to such wikis, yet at least one should be included.
Check the template page for more info.
Alexa
is a character from the
Pokemon X and Y
 video game. She is a photographer and a journalist from
Lumoise City
 and she is the oldest sister of
Viola
.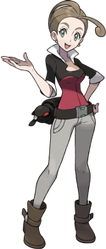 Games
Alexa is the first person the player character meets in X and Y, and welcomes him/her to Kalos.
Anime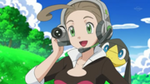 Alexa first appeared along with her Helioptile and Gogoat that she is traveling in
Unova
 region and then, she joins up with
Ash Ketchum
 that she is planning on going to the
Kanto
 region, after Alexa is in Kanto region with Ash, Ash decides to go to Kalos region and Ash travels with Alexa in the plane and Alexa leaves Ash, and now going to his journey.