Amp the Katred Under Anti Kable Ults (also know as A.K.U.A.K.U'S) are Green blocks With Legs, Red eyes and a black strip like mouth Appears as a Enemy.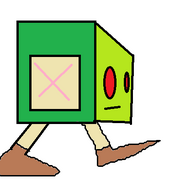 History
Super mario Galaxy 3

A.k.u.a.k.u's makes a appearence in super mario galaxy 3, also smashed with a jump can cause a explosive situation in 5 minutes.
Derickalexsander.galindomoreira (talk) 18:24, March 17, 2016 (UTC)Derick
Ad blocker interference detected!
Wikia is a free-to-use site that makes money from advertising. We have a modified experience for viewers using ad blockers

Wikia is not accessible if you've made further modifications. Remove the custom ad blocker rule(s) and the page will load as expected.