Adeleine did not originate from fanon, and more information can be found on their respective wiki(s). You may read more about it on the following wiki(s):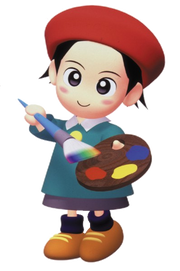 Adeleine is a Human painter residing on the Pop Star, to which she came to in order to study art. She has aided Kirby many times in his battles against Dark Matter.
Abilities
Adeleine has the uncanny ability to bring her art to life. This allows her to give her allies supplies and summon creatures to aid her in battle.
Appearance
Adeleine is of average Human height, with blue eyes, black hair, and light skin. She always wears a green shirt, black skirt, brown shoes, and a red beret. Her appearance has been roughly the same from game to game.
Appearances
Adeleine is a playable character in Kirby: Onslaught. She is found by Kirby, Ribbon, and Waddle Dee fighting Demons in King Dedede's castle. She joins them on their adventure and aids in defeating Dark Matter.
In Kirby: Dark Fury Adeleine is once again a playable character. She runs Kirby down while running from her favorite painting spot after finding a familiar insignia. She joins Kirby again to fight Dark Matter. It is rumored that her homeworld will be a world in the game.
In Kirby: Dream Land's Hope, Adeleine is a playable character after defeating her in her possessed form. After she is saved and tuned back to her normal self, she joins Kirby with her magic painting abilities. When enlisting helpers, she paints her own after defeating them.
Gallery
Ad blocker interference detected!
Wikia is a free-to-use site that makes money from advertising. We have a modified experience for viewers using ad blockers

Wikia is not accessible if you've made further modifications. Remove the custom ad blocker rule(s) and the page will load as expected.