This page, Ace, belongs to White.
Hey,

<insert your name here>

, please don't edit this page unless for spelling errors or to revert trolling.
You can also edit this page should White give you permission to.


People currently allowed to edit this page: no one.
The previous edit on this page was done by: Mirai Moon}}

Please drop a comment in the comments section to tell me how I can improve this page, or just to tell me what you think of my ideas.

Notice
And remember, folks...this is a fanon wiki, so don't be hating on this page for being "fake" or whatever, because I already know that. Have a nice time reading the page, kay? And remember to leave feedback! Much appreciated.

Notice Inside a Notice?! IT'S NOTICEPTION!
If you see a page of mine that doesn't have this template on it, feel free to add it ASAP. Thanks in advance.

Another Notice, and This One is Actually Important
Hahaha, I got you to think this was actually important.
You can go back to whatever you were doing now.

All of My Projects And Such

Games
Other Stuff

My Characters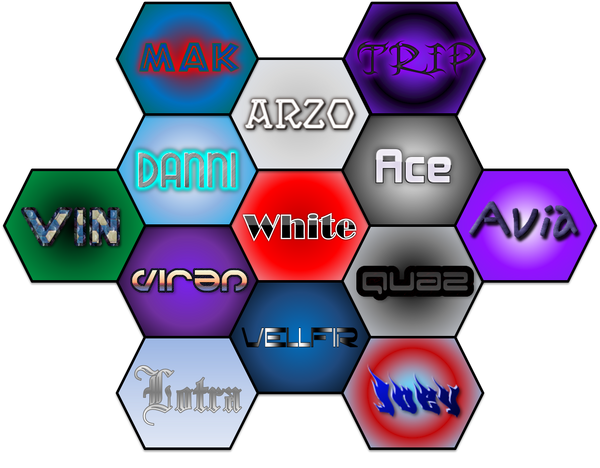 Ace
Current Age
16
Date of Birth
March 22
Zodiac Sign
Aries
Gender
Female
Species
Human
Location
New Viradis
Current Status
Alive
Class
Heroine
Main Weapon(s)
Playing Cards
First Appearance
Ace of Spades
Voice Actor(s)
Molly Rice
Ace is a girl from the city of New Viradis, and the main character of Ace of Spades. She is one of Zentech Studios's flagship characters.
Appearance
Ace looks like a normal teenage girl. She has tannish skin, brown eyes and hair, and usually wears a dark green vest, as well as a burgundy-colored beret, and dark gray sweatpants.
Abilities
While she seems to be a normal human, she's been seen creating playing cards out of pure nothingness. She also uses said playing cards as a form of attack.
Backstory
Ace was a normal girl for most of her life, and lived as a normal person. There weren't many interesting things in her life up until the Ultimate Trump.
Personality
Ace is usually very energetic and peppy, but when times are tough, she doesn't usually know how to get out of slumps. She's usually kind to most others, and tries to get through things without fighting.
Relationships with Other Characters
While she doesn't get to see them often, Ace does like to spend time with other characters of Zentech Studios games. In some games, she's shown to have a slight crush on Danni, but keeps it hidden, due to the fact that she knows Abbi personally, and knows Danni likes her.
More to come...
She appears as the main character of Ace of Spades, who has to save her home town, New Viradis, as well as the rest of the world, from being completely destroyed.
Trivia
Gallery
Games
Other Stuff

My Characters
Ad blocker interference detected!
Wikia is a free-to-use site that makes money from advertising. We have a modified experience for viewers using ad blockers

Wikia is not accessible if you've made further modifications. Remove the custom ad blocker rule(s) and the page will load as expected.