APs-Boo Productions
Founder(s)
Zack (User:ApsBooProductions)
Founded at/in
November 2012
Headquarters
Unknown
Owner(s)
Zack (User:ApsBooProductions)
No. of Employee(s)
1
Predecessor
ZKB inc.
APs-Boo Productions is a game company that works on original games as well as being in charge of
Marvel Nintendo Crossover
. The company was established in 2012, but didn't start working on games untill 2013.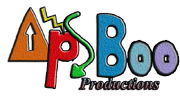 Games
APs-Boo Productions has been working on sevral games so far. Ahead is a list of games released/being developed by APs-Boo Productions:
Fish Bone: Attack of the Chefs!
Planned
Here is a list of games that are planned but not currently in development:
Fish Bone 2 (tenative title)
The Impoyoble Kulk
Unknown upcoming Pokemon game
Members
Sign up here if you want to be a member. You will start as a normal employee and work your way up as you help with the games.
User:ApsBooProductions (President/Head game Developer)