These are
4 player
games . They are the green games where the green is pressed. Here's the list.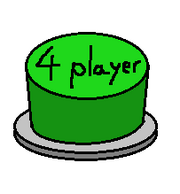 Crayon capture
Paint that wall
Squirt wars
Tumball time
Mario Block Party
Soda shakerz
Bob omb danger (MPC Style)
Fishy race
Shy guy says (Sky)
Paint war!!
Boat riders
Skateboard scamper 1 (Haunted house)
Skatebaord scamper 2 (Dungeon)
Skateboard scamper 3 (Mario world)
Mario Hoops
Shy guy says (Boat)
Turtle race
Racing derby
Move to the rhythm
Ad blocker interference detected!
Wikia is a free-to-use site that makes money from advertising. We have a modified experience for viewers using ad blockers

Wikia is not accessible if you've made further modifications. Remove the custom ad blocker rule(s) and the page will load as expected.