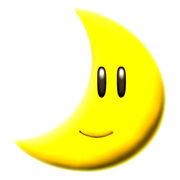 3-Up Moons are very special items in the Super Mario series. They give Mario three Extra Lives. Because of this, they are very rare.
In their debut, Super Mario World, these items could only be used once, meaning they never appear again in the level where they were picked up. This means that the player must use it wisely.
Appearances
Edit
After long absence, the special item returns in this game. Unlike Super Mario World, they appear again every time the player picked it up and replays the level.
Return to Dinosaur Land
Edit
They reappear in the game based off of their original appearance, Mario 3D World along with the 1-Up Mushroom and the new item, 10-Up Star.